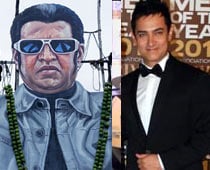 New Delhi: Pics:Rajini mania post Endhiran
Pics:Endhiran
Pics:Rajinikanth
Endhiran:Too much of a good thing
Bollywood actor-producer Aamir Khan says he is yearning to watch southern superstar Rajnikanth-starrer Robot.
"I am most keen to see Robot. Rajni sir rocks!" Aamir posted on social networking site Facebook.
The movie, which is called Endhiran in Tamil, also features Aishwarya Rai. Apparently made at a budget of Rs.175 crore ($38 million), it is being lapped up by audiences across India.
Actors who have seen the movie are all praise for it, but have pointed to its inordinate length.
Riteish Deshmukh posted on Twitter: "Superstar Rajni! He is a phenomenon. Action in Robot is just what you want to watch as a Rajni fan. Go watch it now – a bit long but worth it."Actor Tusshar Kapoor opined: "…quite a fun film but a bit long. Rajni looks young and energetic even at this age. No wonder he's such a superstar."
Actress Sameera Reddy went gaga over the 60-year-old actor. "As the No.1 Rajnikanth fan, I am so proud that he has kicked ass at the box office! So proud of you Rajni sir! You are the best!" she tweeted.