Amid renewed speculation that a political career for Rajinikanth is round the corner, former Tamil Nadu Chief Minister O Panneerselvam weighed in today saying the superstar has "every right to come into politics," but would have to earn that place. He also said it was too early to talk about a possible alliance.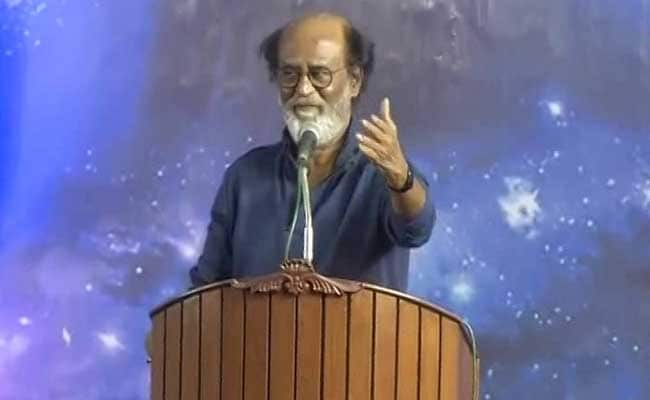 "Rajini has every right to come to politics. But he has to be voted by the people," said Mr Panneerselvam, also called OPS, saying any talk about an alliance with him was "hypothetical."
Such a decision, OPS said, "would be taken at the time of elections, depending on the prevailing scenario."
Rajinikanth's brief flirtation with politics two decades ago was against Jayalalithaa's party AIADMK, when he asked people not to vote for J Jayalalithaa. The megastar's campaign is believed to have cost the party that year's assembly election. The AIADMK has split after Ms Jayalalithaa's death last year and OPS leads one faction.
Rajinikanth has since expressed regret for the 1996 episode and for years steered clear of politics despite fervent petitions from fans. A few weeks ago, however, there was fresh frenzy over whether the star will join politics when he told fans that he has no political aspirations, but "If God wills it, I will enter politics tomorrow."
He followed that up a few days later with, "Let us face the war when it comes," also talking about changing the system.
Since then, Rajinikanth has been asked at every public sighting when he will take the plunge into politics. On Thursday, he said he is discussing prospects with political leaders and would make an announcement once he finalised plans.
"I have not denied it. We are discussing and yet to take a decision. Once I take a decision, I will inform you," the actor told reporters at the Chennai airport.
Last week, the actor met a delegation of farmers and supported their request to interlink rivers. He pledged a crore for the project and told farmers that he would forward their request to Prime Minister Narendra Modi.
The BJP in Tamil Nadu has already invited the actor to join the party and party chief Amit Shah seemed to endorse that when he said "all good people" were welcome to join politics. DMK leader MK Stalin was flattered at being described as an "efficient politician" by the superstar.