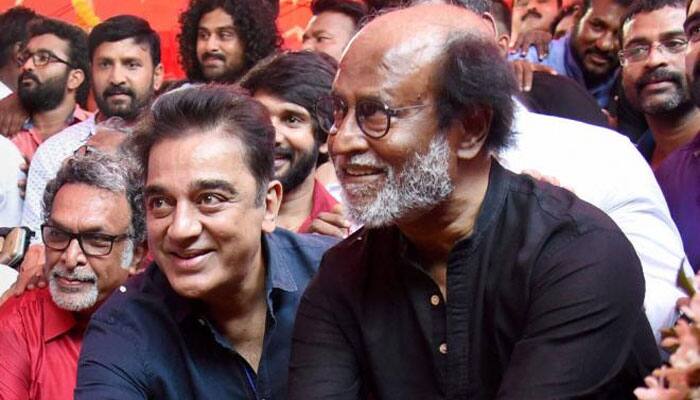 Amid the standoff between Tamil Nadu and Karnataka over sharing of Cauvery water, pro-Kannada groups have demanded ban on movies of superstars Rajinikanth and Kamal Haasan, who recently entered politics.
According to media reports, the call for ban on the movies of the superstars has been raised by Vatal Nagaraj, the leader of pro-Kannada outfit Kannada Chaluvali Vatal Paksha. The call comes just days after both the actors joined other members of the Tamil Nadu film industry, such as Vijay, Nassar and Dhanush, to protest the delay in the formation of the Cauvery Management Board.
The Tamil actors had staged a day-long protest in Chennai, demanding immediate formation of Cauvery Management Board, as per the directions of the Supreme Court for distribution of Cauvery water between Tamil Nadu and Karnataka.
However, earlier on Wednesday, Rajinikanth took to microblogging site Twitter to slam protesters who resorted to violence while opposing Indian Premier League (IPL) matches in Chennai.
Sharing a video of an alleged protester hitting a policeman, the megastar said that violence was not a solution to the issue. The protests against IPL matches in Chennai were held in the wake of the recent Supreme Court judgement on distribution of Cauvery water between Tamil Nadu and Karnataka.
Expressing his anguish over the violence, Rajinikanth tweeted that such protests would harm the country, even as he demanded that more stringent laws need to be brought in to punish those who indulge in violence against police personnel.