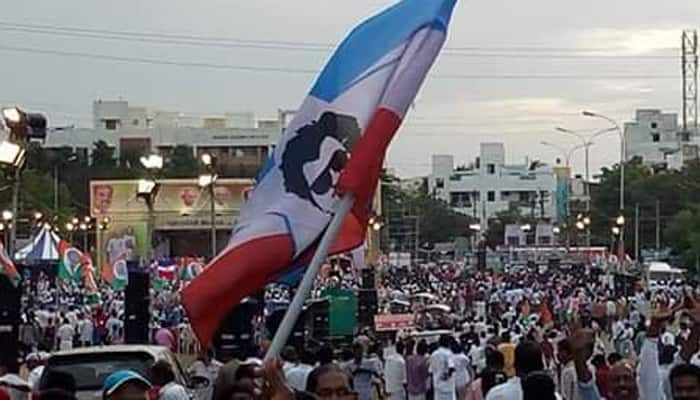 Trichy: Thousands of fans gathered in Trichy on Sunday evening to urge superstar Rajinikanth to join politics.
Gandhiya Makkal Iyakkam (Gandhian People's Movement) founder Tamilaruvi Manian, who organised the meet, compared the actor's fan following to that of former Tamil Nadu CM MG Ramachandran.
He also told the media that the event would showcase the kind of support 'Thalaiva' enjoys in the state.
The 67-year-old Rajinikanth, who has a demi-god status among millions of his fans, has never contested an election.
In May this year, he had sparked massive speculation when he had told fans he may ponder about joining politics.
On the first day of his meeting with fans, held after eight years, the actor had said that he had no political aspirations, but "If God wills it, I will enter politics tomorrow."
Rajinikanth had repeated his thought saying he had no desire to join politics, but if he did, he would show the door to all "money-minded" people.
The Tamil superstar had also asked his supporters to be ready for war when it comes, asserting the "system is rotten" and that it needed to be changed.
"When a war comes they will come to the rescue of their motherland. I have a profession, work, duty and so do you. Go to your places, do your duty, take care of your vocation. Let us face the war when it comes," he had said amidst thundering applause from fans.
The actor had rued that despite the presence of 'efficient' politicians like MK Stalin and Anbumani Ramadoss, the "system is affected" and that the people's "thought process" on politics and democracy had to be changed.
"The system is rotten. We should change the system."
Shooting down the outsider tag, Rajinikanth, a man of Marathi roots and a native of Karnataka, had proclaimed himself to be a true-blue Tamilian despite his origins from Karnataka.
"Even though I am from Karnataka, still you have accepted me and you have made me into a Tamil. I am a pure Tamil now," he had said.
On the issue of many of his critics pointing out his 'non-Tamil' origin, Rajinikanth said his native place was a village in Krishnagiri district in Tamil Nadu.
"I am 67 years old. For 23 years I was in Karnataka and 44 in Tamil Nadu. I grew up with you. I may have come here as a Kannadiga or Marathi from Karnataka but you gave me love, support, name, fame and prosperity and you have made me a Tamil," he had said.
Later, Rajinikanth had said that he was "yet to take a decision" on taking the political plunge.
It has been widely speculated in the media as to whether the actor would align with the BJP if he joins politics.
When questioned about the same, BJP president Amit Shah's had told reporters that "every good person is open to join politics."
However, he had added that it was "up to the actor to take a decision."
On the other hand, BJP national secretary H Raja had said that Rajinikanth was a 'popular' personality and was welcome to join the saffron party.
Will he or won't he is the million dollar question in the minds of his fans in Tamil Nadu.