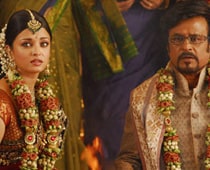 Thanjavur: Pirated CDs of Rajnikant'slatest mega film Endhiran were seized from Papanasam and two persons arrested in this connection, policesaid.
Acting on a tip-off, police seized 47 CDs of themulti-crore film, which hit cinemas across the world only onOctober 1 and is doing well at the box-office.
Vasudevan (43) and Sushil (25), running video parlours inPapanasam, 26 km from here, were arrested for selling the CDSof the film, in which Rajnikant has paired with Aishwarya Rai.
The trilingual film, directed by Shankar, is touted to beone of the most expensive ventures in Indian cinema, withproducer Kalanithi Maran launching an aggressive marketingblitzkrieg to promote it.
Police also seized 200 pirated CDs of other new Tamilfilms from the two shops.