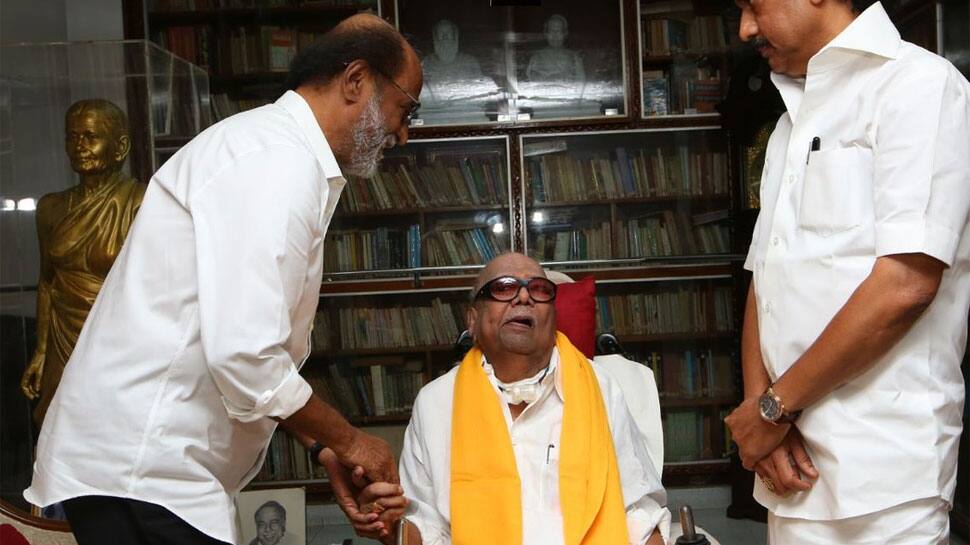 Chennai: Rajinikanth, who recently announced his entry into politics, met DMK chief Karunanidhi at his residence in Chennai on Wednesday. DMK working president MK Stalin was also present at the meeting.
After the meeting, the actor said, "He is the senior most politician in the country. I respect him a lot. We have a very good friendship. I took his blessings as I am entering politics. I am feeling very happy after meeting him."
Rajinikanth on December 31, 2017, had said that he would launch a party before the next state Assembly polls. Amid a thunderous applause from his fans, he had declared, "I am joining politics and it is for sure."
Espousing a new line of 'spiritual politics', the 67-year-old actor had added that his (yet-to-be-named) party would contest all the 234 seats in the next Assembly polls, due in 2021.
The party would be launched ahead of the state election at 'an appropriate time', Rajinikanth had said. He had also appealed to the people to support him in his venture, which, the actor had said, was not possible for him to do it alone.
A day later, on January 1, 2018, Rajinikanth had launched an Android mobile application and web page to enable people to become members of his fans association which could be later transformed into a political outfit.