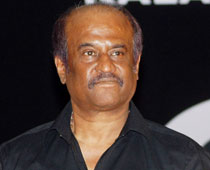 Mumbai: After a recent visit to the Tirupati temple, Rajnikanth sat down with the workers from the sets of Rana to put all rumours about his ill-health to rest.
Says a source, "The workers of Rana have been toiling away to create a life-size set for the film at Ramoji.
"They had been hearing rumours about Rajnikanth making it back for the shoot soon. When the shoot got postponed once again, from October to December, they decided that they wanted to meet the star and make sure all is well."
A group of workers landed up in Chennai and insisted on making sure that their Thalaivar is doing well.
Adds the source, "It's quite difficult to get to meet him these days especially, because he has been resting. But when he heard that a bunch of people had come to enquire about his health, he made sure he gave them time."
Apparently Rajni sat down with the workers and assured them that the film was not being shelved as per rumours and that he would be back as soon as he is well enough to do action sequences.
The actor recently visited the Tirupati temple as a token of thanks to his fans who had their heads tonsured at the site to pray for him.
The source adds, "When these workers came, he inspired them to work as hard as possible, instead of stalling everything because of his health."