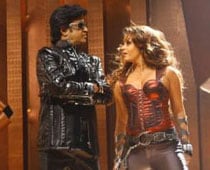 Superstar Rajnikanth said he was elated with the success of his latest film Endhiran.
"I am very happy that the film has been liked by audiences. Now, I want to take a break and go on a holiday," he told reporters here.
The actor was in the city for a special screening of the film's Hindi version Robot for select members of the Hindi film industry.
Amitabh Bachchan, along with Jaya, Aishwarya and Abhishek, Dev Anand and Prem Chopra watched the film along with other prominent Bollywood personalities at a suburban multiplex here.

Endhiran directed by Shankar is a Tamil movie dubbed in Hindi and Telugu and also stars Aishwarya and Danny. In the movie, Rajnikanth plays a scientist who