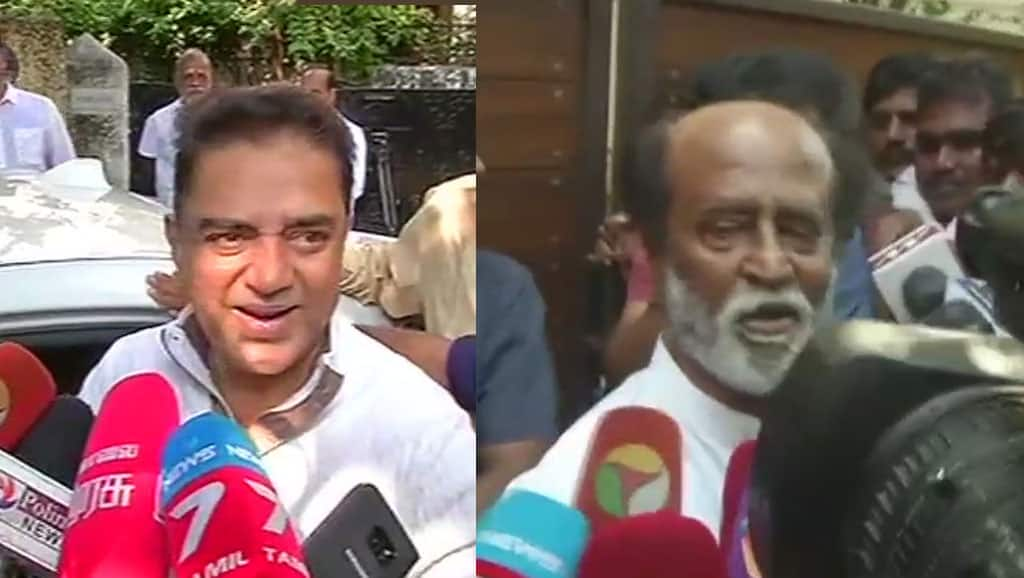 Chennai: Ahead of his political tour, veteran Tamil film star Kamal Haasan met superstar Rajinikanth at the latter's Poes Garden residence in Chennai on Sunday.
The Kamal Haasan, Rajinikanth meeting comes amidst intense speculation over a possible political tie-up between two acting legends of the Tamil cinema.
Kamal Haasan, however, tried to put all speculations at rest by saying it was just a courtesy call and there is no political angle to it.
"It is a courtesy call and not a political meet. I met him and told him about my decision. I am meeting people I like before I begin my journey. Meeting him is part of friendship, not about politics," Kamal Haasan told reporters after his meeting.
When quizzed by the reporters, Rajinikanth said, "Kamal wants to serve the people of Tamil Nadu. I pray to God that he attains success."
Extending his backing to the 'Dasavataram' actor, Rajinikanth said, "Kamal has not entered politics for fame or money but only to serve people of the state."
Kamal (Haasan) wants to serve the people of Tamil Nadu. I pray to God that he attains success. He has not entered politics for fame or money but only to serve people of the state: Rajinikanth, after Kamal Haasan met him at his residence in Chennai pic.twitter.com/Q3sVsZ9q9s

— ANI (@ANI) February 18, 2018
When asked about the possibility of two great actors joining hands for a noble cause, Kamal said, "Only time will tell about us joining hands. The opportunity might come to meet national leaders in the future."
Rajinikanth also spoke to the media about it and said, "My style and his are different even in movies."
Rajinikanth and Kamal Haasan's relationship goes back decades, the duo has acted in several films together in the 1970s.
The two actors, who are towering figures of Tamil cinema, have maintained a good friendship over the years.
Haasan had on Tuesday said that there will be no more films for him as his plunge into politics for the people of Tamil Nadu is final and irreversible.
The actor-turned-politician, who is set to announce his party and its guiding principles this month, believes Hindu extremism is a threat and he cannot just keep complaining about it.
"Except for the two films which are coming out, there will be no more films for me," Haasan said in an interview to a news channel.
On being asked whether he would stick to politics even if he loses the election, he said, "I will have to do something for an honest living. But I don`t think I am going to lose."
As for his confidence, the superstar said, "I may not have been a political entity but we have been in social service for 37 years. In these 37 years, we have collected about 10 lakh loyal workers. "They are with me for the past 37 years. At my instruction, they have engaged more and more young people in our welfare movement over the years including about 250 lawyers. All would become volunteers."
Earlier in February, Kamal had said that a political alliance with Rajinikanth was unlikely.
Speaking at Harvard University in the US, Kamal had said, "We can exist as friends be on one side. But polity is different. I am trying to make a difference to my state. Our general intent may be the good of the people. But I believe that there is a certain way in which good will have to come to the people."
Kamal Haasan is scheduled to launch his party in Madurai on Wednesday.
The star will address a series of meetings, beginning his political tour from former President APJ Abdul Kalam's residence in Rameshwaram.
His February 21 itinerary will also include unveiling his party flag and party name at Madurai, besides addressing public meetings at Ramanathapuram, and visiting Paramakudi, and Manamadurai.