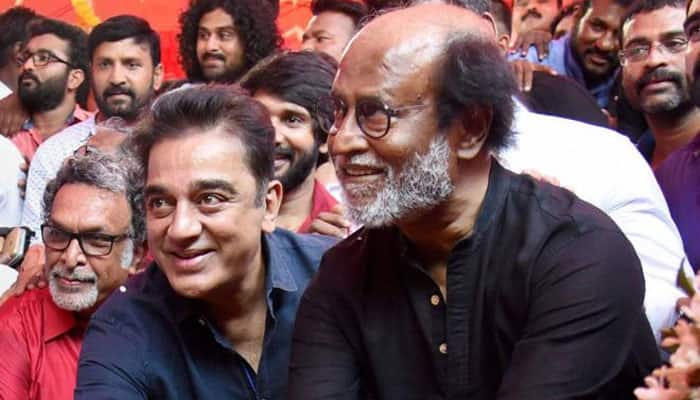 Noted south Indian actor Kamal Haasan has said that he does not see a political alliance with Rajinikanth in the current circumstances. News agency ANI quoted Haasan as saying that "there is a hue of saffron in Rajini's politics".
Referring to an alliance with Rajinikanth, who on December 31 announced that he would form a new party and enter politics, Haasan said, "There is a hue of saffron in Rajni's politics. If that doesn't change then I don't see an alliance with him. We are good friends but politics is different."
This came even as the actor launched his much-awaited website naalainamadhe.maiam.com, which talks about building a new sustainable model village.
Talking about a possible alliance with Kamal Haasan, south Indian film superstar Rajinikanth had avoided a direct answer on Thursday saying, "Only time will answer this question".
He had reacted in a similar way when the question was posed to him at the launch event of animation film "Kizhakku Africa vil Raju" based on the life of AIADMK founder MGR. He had then said: "Let us see in due course of time."
Reiterating similar views, Haasan had said, "Time is a good medicine for everything. I second it." Both the actors-turned-politicians shared the stage at the event raising speculations over a possible alliance.
Notably, Kamal Haasan is slated to start touring Tamil Nadu, beginning with his hometown of Ramanathapuram, on February 21. He is also likely to reveal the name of his party on the same day. Meanwhile, Rajinikanth has already announced that his political party would contest on all 234 seats in the next assembly elections.
Rajinikanth and Hassan recently started their political journey in a state that has had a rich history of cinema marrying politics. MG Ramachandran not only floated the AIADMK after walking out of the M Karunanidhi-led DMK, but also went on to become the state chief minister. Jayalalithaa too served the state as the Chief Minister for several years.