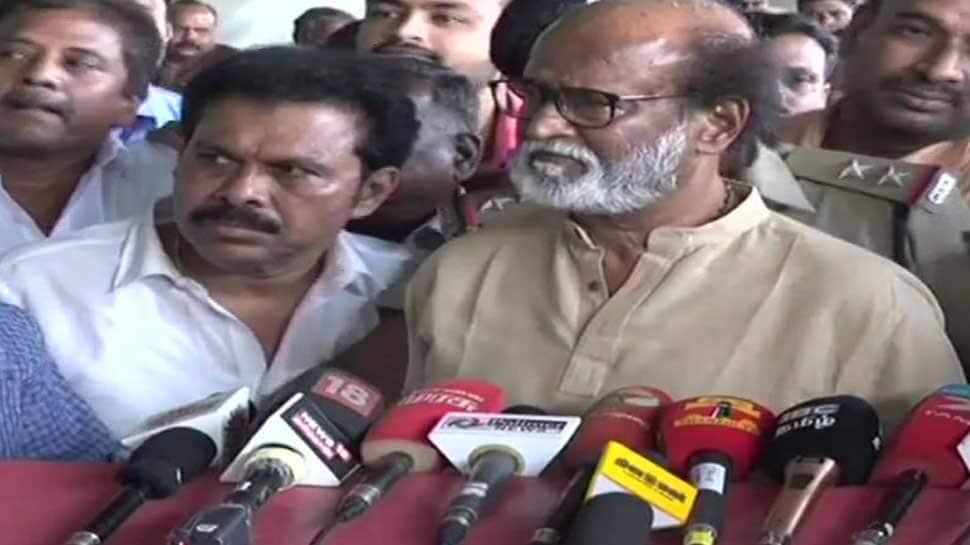 TUTICORIN: Tamil superstar Rajinikanth on Wednesday blamed anti-social elements for the anti-Sterlite protests last week that resulted in the tragic death of at least 13 people in police firing in Tuticorin.
"The attack on the collector's office and setting on fire (Sterlite) quarters was not done by the common people. Some anti-social elements infiltrated… (the protesting locals). It is their handiwork," he said.
The iconic actor also expressed grief that 'this noble protest' had ended on a bloody note.
He made these remarks while interacting with media after meeting those injured in the police firing. Rajinikanth, however, rejected demands for Chief Minister K Palaniswami's resignation over the issue. 
The actor, who gave away Rs 10,000 relief to each of the 48 injured persons, said pro-Jallikattu protests in Tamil Nadu last year also saw infiltration of 'anti-social elements'.
He had earlier announced a relief of Rs two lakh each to the families of the 13 deceased.
The veteran Tamil movie star also called for a Jayalalithaa-style 'iron fist' policy to crush such people in the best interest of Tamil Nadu.
"The government should crush such anti-social elements with an iron fist. On that front, I laud Jayalalithaa as she kept such persons under check with an iron fist. They should follow her policy and keep them under check, as otherwise, it will result in great danger for Tamil Nadu," he said.
He also called for action against those who attacked policemen during the May 22 protest.
Thirteen people were killed in police firing on May 22-23 when violence broke out at the protest by locals, demanding the closure of Sterlite Industries in this district over pollution issues.
On the Opposition's demand for resignation of the chief minister, Rajinikanth sought to know how quitting could be a solution.
"If you demand resignation for everything, what (is the purpose)… I don't want to talk about that," he said.
To a question, Rajinikanth said that he had "no confidence" in the state government appointed one-man inquiry commission under retired Madras High Court judge Aruna Jegadeesan to probe the Tuticorin violence.
The actor, who has announced plans to join politics, said constant agitations may not yield solutions and added that one should move courts for redressal of their grievances.
Agitations often happen in the state, sometimes for "genuine reasons," he said, adding that people should be careful against being incited.
"Too many protests could dissuade trade and investors from coming to Tamil Nadu, affecting employment opportunities," he said, adding agriculture has already been hit due to water scarcity.
The actor cautioned Vedanta Ltd, which runs Sterlite Industries, against moving court over the Tamil Nadu government's closure order of the copper smelter unit, saying "they are not humans if they do so."
"With so many deaths and injuries, they should not even think of doing that," he said, adding, nothing can stand before people's power.
Rajinikanth faulted the police intelligence for its 'big mistake' in failing to detect the presence of anti-social elements in the protests.
At the hospital, the actor spoke to the injured and was seen holding hands of some of them.